(I changed much)

Line 1:
Line 1:
−

'''Welcome to the Hybrid Animals Wiki! '''The developers, Abstract Software, Inc., is not responsible for this wiki's content. This wiki is maintained by fans and anyone is free to edit/join!

+

'''Welcome to the Hybrid Animals Wiki! '''The developers, Abstract Software, Inc., is not responsible for this wiki's content. This wiki is maintained by fans and anyone is free to edit/join!

 
 
−

== Interface ==

+

== ==

 
+
⚫

{{Infobox_(3_labels)|title1 = Hybrid Animals|image1 = The Hybrid Animals Icon.png|caption1 = The Game's Icon|row1 = Abstract Software, Inc.|row2 = 25 MB|row3 = 200261}}

You are greeted by a random 'animal' that is spinning slowly. Spinning it even faster will transition it through a repeated cycle of messages until it vomits green squares.

 
 
+

=== About The Game ===

 
+

''Hybrid Animals'' is a game by Abstract Software Inc.,

 
+
 
⚫
 

*Aaaaah!

 

*Aaaaah!

 

*Why???

 

*Why???

 

*I'm going to be sick.

 

*I'm going to be sick.

 
+

*Bleaaagh! ''[sic] ''*vomits*

−

*Bleaah! *pukes*

 
 

*Such is life.

 

*Such is life.

 

If stopped from spinning (by turning it in the opposite direction of spinning slowly)

 

If stopped from spinning (by turning it in the opposite direction of spinning slowly)

Line 21:
Line 25:
 

There are two buttons on mobile: "Play Game" or "Website". To play the game, select the first button.

 

There are two buttons on mobile: "Play Game" or "Website". To play the game, select the first button.

 
 
−

The website button will take you to the unofficial subreddit

+

The website button will take you the subreddit

 
 
 

=== Official Description ===

 

=== Official Description ===

−

Not that this was taken from the [https://apps.apple.com/us/app/hybrid-animals/id1127937062 App Store] and [https://play.google.com/store/apps/details?id=com.abstractsoft.hybridanimals&hl=en Google Play]<blockquote>"''Pick 2 animals and the game will morph them together! Each hybrid animal has its own unique abilities and powers. There are millions of possible creatures to make!"''</blockquote><blockquote>"''Explore and survive in a vast randomly generated world, battling hybrid monsters, and build a town that you control!"''</blockquote><mainpage-rightcolumn-start />

+

that this was taken from the App Store and [https://play.google.com/store/apps/details?id=com.abstractsoft.hybridanimals&hl=en Google Play]<blockquote>"''Pick 2 animals and the game will morph them together! Each hybrid animal has its own unique abilities and powers. There are millions of possible creatures to make!Explore and survive in a vast randomly generated world, battling hybrid monsters, and build a town that you control!"''</blockquote><mainpage-rightcolumn-start />

 
 
 
+

{| class="article-table"

⚫
 
 
+

!

⚫
 
 
+

== Hybrid Animals Now! ==

 
⚫
 
+

|

 
+

=== '''WEDNESDAY IS THE MIDDLE OF THE WEEK''' ===

 
⚫
 
 
 

The best part is that '''you can keep the hybrid creations, even after Wednesday! '''

 

The best part is that '''you can keep the hybrid creations, even after Wednesday! '''

Line 33:
Line 42:
 

Don't just sit there! Get the immense Hybrid Animals craziness you need!

 

Don't just sit there! Get the immense Hybrid Animals craziness you need!

 
 
−

Before Update Overhaul, Wednesday-Created creatures were deleted immediately after Wednesday; hence, '''"what's in Wednesday, stays with Wednesday"'''

+

Before Update Overhaul, Wednesday-Created creatures were deleted immediately after Wednesday; hence, '''"what's in Wednesday, stays with Wednesday"'''

 
 
−

The deletion feature was possibly added to prevent players from keeping premium animals they didn't buy. This was disabled, consequently, due to some errors and problems with players losing their actual hybrids.

+

The deletion feature was possibly added to prevent players from keeping premium animals they didn't buy.

 
+
 
+

This was disabled, consequently, due to some errors and problems with players losing their actual hybrids.

 
 
 

The devs have slowed down a lot in these past game updates, so you won't be expecting something new soon.

 

The devs have slowed down a lot in these past game updates, so you won't be expecting something new soon.

 
+

|-

 
+

|

 
+

=== '''GAME-CHANGERS''' ===

 
⚫
 
 
 
+

It should appear in the next update, and who knows when that is?

 
+

|-

 
+

|

 
⚫
 
 
−

=== '''GAME-CHANGERS '''===

+

=== ''''''===

 
⚫
 
 
 
⚫
⚫
 
 
 
 
⚫
 
 
−

==='''CONNECTING'''===

+

===''''''===

 
+

The Hybrid Animals subreddit. Check out r/HybridAnimalsGame/ on Reddit!

 
 
 
+

Link: https://www.reddit.com/r/HybridAnimalsGame/

⚫
 
 
+

|}

 
⚫
 
 
 
+

<mainpage-leftcolumn-start />

⚫
 
 
 
 
+

== The Basics ==

⚫
 
 
+

<references />

 
 
 

<mainpage-endcolumn />

 

<mainpage-endcolumn />

 
 
 

{| style="width:100%;"

 

{| style="width:100%;"

⚫
 
−

! colspan="2" style="background-color:#2E9AFE; font-size:18pt; color:#FFFFFF; padding:8px;" |For New Visitors

 
 

|-

 

|-

 

|

 

|

−

== What do you in this game? ==

+

== What do you in this game? ==

 

Pick two animals from a giant list and the game will morph them together into a hybrid animal!

 

Pick two animals from a giant list and the game will morph them together into a hybrid animal!

 
 
−

=== Creation <sup>(main article, [[Creatures]])</sup> ===

+

=== Creation ===

−

To create a creature, choose two animals (a mom and a dad) from the giant selection on the creation screen. Depending on what 'animal' you use, the hybrid creature will have different perks, and different names.

+

To create a creature, choose two animals (a mom and a dad) from the giant selection on the creation screen. Depending on what 'animal' you use, the hybrid creature will have different , and different names.

 
 
−

=== Exploration ===

+

=== Exploration ===

−

After making your hybrid, explore! Collect items to craft them into better items to collect more items to craft even better items. Earn experience (EXP) points by eating enemies, mining certain objects and destroying EXP orbs to level up your hybrid and make it stronger. 

+

After making your hybrid, explore! Collect items to craft them into better items to collect more items to craft even better items. Earn experience (EXP) points by eating enemies, mining certain objects and destroying orbs to level up hybrid and make it stronger. 

 
 
 
+

==== '''Battle''' ====

−

== What are Upgrades and Perks? ==

 
 
+

Through exploring the huge and randomly generated world, the player will uncover new places, new terrains, and new creatures. These creatures are also hybrids, however; they are considered evil. The player creature will have to battle them to earn experience points, especially if the enemy is hostile against the player.

−

Every time you level up, you earn Upgrade Points. These are used to improve different stats of your hybrid. They are listed as follows:

 
−

#Mining

 
−

#Health

 
−

#Health Regen

 
−

#Attack

 
−

#Accuracy

 
−

#Crafting

 
−

#Power Energy

 
−

#Dodge

 
⚫
 
 
 
 
+

Once the enemy creature is defeated (or eaten, as it is more commonly called) the player will earn an amount of EXP roughly in proportion to the level number of the creature. In simpler words, the player hybrid will get more XP.

⚫
 
 
+

|-

 
+

|

 
+

=== '''What's next?''' ===

 
 
 
+

==== '''Upgrades''' ====

⚫
 
 
+

Upgrade Points are acquired through leveling up the player creature. These could be used to boost specific stats of your hybrid, like Attack or Health.

 
+
 
⚫
 
+
 
+

More detail of this feature can be found at article [[Upgrades]].

 
+
 
+

==== '''Power''' ====

 
⚫
 
+
 
+

The player starts with one perk, but may add up as they go through the game.

 
+
 
⚫
 

|}

 

|}

 
 
 

<mainpage-endcolumn />

 

<mainpage-endcolumn />

 
 
 
+

== Gallery ==

⚫
 
 
+

You can contribute to the gallery by adding photos of your own.

 
+
 

==Latest Wiki Activity==

 

==Latest Wiki Activity==

 
 
 

<activityfeed></activityfeed>

 

<activityfeed></activityfeed>

 
 
−

<mainpage-endcolumn />[[File:The Hybrid Animals Icon.png|thumb|298px|right|The Game's Icon on App Store and Google Play]]

+

<mainpage-endcolumn />[[File:The Hybrid Animals Icon.png|thumb||The Game's Icon on App Store and Google Play]]

 
 
 

<mainpage-endcolumn />

 

<mainpage-endcolumn />
---
Revision as of 07:28, 16 July 2020
Welcome to the Hybrid Animals Wiki! The developers, Abstract Software, Inc., is not responsible for this wiki's content, although they occasionally come to visit and check on us. This wiki is maintained by fans and anyone is free to edit/join!
Introduction
About The Game
Hybrid Animals is a game by Abstract Software Inc.,
You are greeted by a random 'animal' that is spinning slowly. Spinning it even faster will transition it through a repeated cycle of messages until it vomits green squares.
Aaaaah!
Why???
I'm going to be sick.
Bleaaagh! [sic] *vomits*
Such is life.
If stopped from spinning (by turning it in the opposite direction of spinning slowly)
Thank you.
I hate spinning.
Makes me feel dizzy.
Pausing for a moment...
Who are you?
Where am I?
What is this void?
If spun around again
There are two buttons on mobile: "Play Game" or "Website". To play the game, select the first button.
The website button will take you the Hybrid Animals subreddit, r/HybridAnimalsGame/
Official Description
Note that this was taken from the App Store and Google Play
"Pick 2 animals and the game will morph them together! Each hybrid animal has its own unique abilities and powers. There are millions of possible creatures to make! Explore and survive in a vast randomly generated world, battling hybrid monsters, and build a town that you control!"
Hybrid Animals Now!
WEDNESDAY IS THE MIDDLE OF THE WEEK
Every Wednesday, Hybrid Animals allows all premium animals to be used for mutation!
The best part is that you can keep the hybrid creations, even after Wednesday!
Don't just sit there! Get the immense Hybrid Animals craziness you need!
Before this update [when?[1]], Wednesday-Created creatures were deleted immediately after Wednesday; hence, "what's in Wednesday, stays with Wednesday".
The deletion feature was possibly added to prevent players from keeping premium animals they didn't buy.
This was disabled, consequently, due to some errors and problems with players losing their actual hybrids.
The devs have slowed down a lot in these past game updates, so you won't be expecting something new soon.
GAME-CHANGERS
Rumor has it that the developers will add a "hybrid randomizer" button to the game... This will be said to randomly select animals to create a hybrid! It should be quite fun and mysterious; not knowing what hybrid you'll get!
It should appear in the next update, and who knows when that is?
CONNECTING
Facebook
Our Facebook Community Page, Hybrid Animals Game Official, is always ready for your suggestions on how to improve! Support us by liking the Page!!
Link: https://web.facebook.com/HybridAnimalsWikiOfficialPage/
Also, it sides with a rather small group named Hybrid Animals (Game)... Feel free to contrhibute and join!
Reddit
The Hybrid Animals subreddit. Check out r/HybridAnimalsGame/ on Reddit!
The Basics
↑ Update "Overhaul" - Version 55.0
What do you actually do in this game?
Pick two animals from a giant list and the game will morph them together into a hybrid animal!
Creation
To create a creature, choose two animals (a mom and a dad) from the giant selection on the creation screen. Depending on what 'animal' you use, the hybrid creature will have different powers (see below), and different names. (main article, Creatures)
Exploration
After making your hybrid, explore! Collect items to craft them into better items to collect more items to craft even better items. Earn experience (EXP) points by eating enemies, mining certain objects and destroying XP orbs to level up the hybrid and make it stronger.  
Battle
Through exploring the huge and randomly generated world, the player will uncover new places, new terrains, and new creatures. These creatures are also hybrids, however; they are considered evil. The player creature will have to battle them to earn experience points, especially if the enemy is hostile against the player.
Once the enemy creature is defeated (or eaten, as it is more commonly called) the player will earn an amount of EXP roughly in proportion to the level number of the creature. In simpler words, the player hybrid will get more XP.
What's next?
Upgrades
Upgrade Points are acquired through leveling up the player creature. These could be used to boost specific stats of your hybrid, like Attack or Health.
Once the player upgrades, certain aspects of their monster will be boosted. For example, Mining will increase your ability to mine stuff. Crafting will give you more items to craft using the Workbench and the Anvil. Attack will make the attack power rise while Health will up max health.
More detail of this feature can be found at article Upgrades.
Power
Anyway, every sixth stat upgrade will give an additional Perk (or less commonly, Power).
The player starts with one perk, but may add up as they go through the game.
A Perk (or Power) is an ability that will help you throughout the game; like Giant - which turns the player into a giant. They can be selected at the bottom-right corner of the screen while playing. If you want an in-depth description of this, see Perks.
Gallery
You can contribute to the gallery by adding photos of your own.
Latest Wiki Activity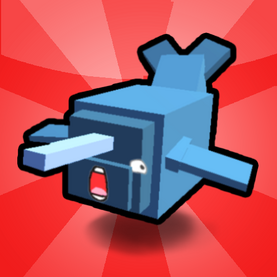 Community content is available under
CC-BY-SA
unless otherwise noted.